Benefits of Probiotics and Prebiotics
Benefits of Probiotics and Prebiotics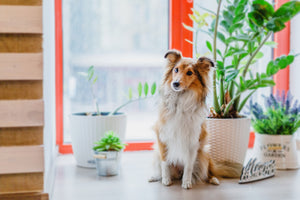 Digestion is one of the most significant reasons that dog owners bring pets to see their veterinarians which is why learning about probiotics and prebiotics will benefit your pet's health and gastrointestinal maintenance. Here is everything you need to know about the benefits of probiotics and prebiotics.
What Is A Probiotic?
The World Health Organization (WHO) describes probiotics as "live microorganisms, which when administered in adequate amounts, confer a health benefit on the host." Our pets are exposed to a variety of harmful bacteria (E.coli, Salmonella, Clostridium perfringens), toxins, stress (traveling, kenneling, food changes), and antibiotics/medications. Probiotics can prevent/treat diarrhea, improve intestinal conditions (IBD), and inhibit the growth of harmful bacteria.
Also, there is growing evidence that probiotics can improve skin and coat health, allergy symptoms, reduce gas, improve breath, and support chronic GI conditions, such as inflammatory bowel disease.
What Is A Prebiotic?
Prebiotics are non-digestible, fermentable fibers that "feed" the good bacteria in your dog's gut and colon and then become short chain fatty acids which affect the development of harmful bacteria. They also balance fluids, boost cell production, healthy gut flora, and preserve electrolytes.
What Are The Benefits of Ample Nutrition Probiotics and Prebiotics?
Ample Nutrition's Complete Dog Prebiotic and Probiotic Supplement provides pets with access to ten probiotic strains: 
Enterococcus faecium
Lactobacillus acidophilus
Lactobacillus plantarum
Lactobacillus casei spp. Casei
Lactobacillus rhamnosus
Bifidobacterium bifidum
Bifidobacterium lactis
Bifidobacterium breve
Bifidobacterium longum
Streptococcus thermophilus  
      2. Our product contains two prebiotics: FOS (fructooligosaccharides) and inulin.
Our product is packed with 3 billion CFU (colony forming units) of friendly, beneficial microorganisms. 
They enhance the vitality and health of your dog's digestive tract by attacking unhealthy bacteria like Clostridium, E. coli, Salmonella, and Campylobacter.
Ample Nutrition's prebiotics and probiotics maintain a healthy balance of good and bad bacteria which creates a healthy environment for the production of favorable bacteria. 
They enable your pet's absorption of vitamins and minerals which are critical to healthy and functional systems. 
They can enhance your pet's immune system and aid in improving skin and coat disorders due to allergies.
They can remove toxins from your pet's body.
They can increase digestion levels, absorption, and improve regularity.
They can reduce bloating, gas, diarrhea, constipation, indigestion, leaky gut, and stress from food disruptions, adversity to antibiotic therapy and GI infections.
Complete Dog Prebiotic + Probiotic is ideal for pets with food intolerances or sensitivities to certain foods.
Our products are human-grade, vegetarian-based, all-natural, chewable, and easy to administer – ideal for dogs with protein sensitivities (beef, chicken, pork).
We've taken great care to maximize the chance for our bacteria to reach the gut through the use of the patented LiveBac manufacturing process.
We manufacture our products in a GMP-certified facility (Good Manufacturing Practice). 
Our products are free of wheat, gluten, corn, soy, artificial flavorings, GMOs, meat, and preservatives.
All of our products are made in the USA using the following ingredients: vegetarian bacon and cheese flavoring, dicalcium phosphate, magnesium stearate, microcrystalline cellulose, and stearic acid. 
Things To Consider When Choosing Prebiotic Probiotic Dog Products
How many strains of probiotics will my pet require?
Research shows that dogs need ten critical probiotic strains. Our products have ten probiotics and two prebiotics to help animals reach their full potential.
Why is it essential to balance bacteria in my dog's gut?
When an imbalance occurs, it affects your dog's entire body including its critical functions which is why our products have 3 billion (CFU) to help create a balance.
How do I assess the ingredients in Ample Nutrition products?
We provide full product details on our Ample Nutrition website. You may also read our FAQ here which offers a complete list of product uses and benefits.
Pet access to probiotics and prebiotics are critical and will ensure that your dog achieves its maximum potential for health and well-being. Join us on social media so that you stay up-to-date and learn more about our pet-friendly products.
Bold Commerce Collaborator