Hazard Of Leaving A Pet In Your Car
Hazard Of Leaving A Pet In Your Car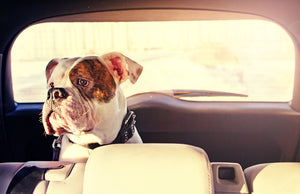 All too commonly, Americans hear about a heat-related car death. In the last two decades, more than six hundred children have died in hot cars. Animal deaths are not officially recorded, but experts estimate that hundreds of animals also die annually in the United States. The problem is that they were all preventable which is why more attention to this public safety issue is needed.
While both humans and animals are susceptible to overheating, people can regulate body temperatures while animals cannot. You can imagine how quickly pets will perish as the heat within an enclosed car rises. Here is more information on the hazard of leaving a pet in your car.
Even on a cool day, parked under a tree's shade, or with a cracked window, it only takes ten minutes for the interior of a car to rise ten degrees. The hotter the day, the quicker the temperature will increase. In just a half hour, an 85-degree day would rise to over 120 in a car.
Temperature Data Shows:
75-degree exterior: 10-minute enclosure:
100 degrees / 30-minute: 120 degrees
85-degree exterior: 5-minute enclosure:
90 degrees / 10 minutes: 105 degrees
100-degree exterior: 15 minutes:
140 degrees
Heatstroke can occur in less than 15 minutes. Symptoms include restlessness, anxiety, panting, and disorientation.
On warm days, it can be extremely dangerous for animals or toddlers. The problem with a vehicle's interior is that heat magnifies in closed spaces which is why it is difficult to breathe when you first enter your car. The heat becomes unbearable because of the lack of fresh air.
When left in a vehicle, the trapped heat causes respiratory problems, increased heart rates, and seizures. Eventually, it harms your pet's vital organs which quickly leads to injury or death. With every minute that passes in extreme heat, the chance of survival decreases significantly.
More than half of U.S. states have current laws that prohibit car owners to leave an animal in a car. There are also lawful protections for anyone who attempts to rescue an animal in distress. While the laws vary, you have a right and a moral obligation to either find the owner or call 911.
Other things you can do include notifying local store personnel of the situation so they can make an announcement. You can also stay with the car until the owner or authorities arrive. You can develop local programs that share knowledge about car-related deaths.
Start a community program to show car owners how to set in place a system that reminds them of occupants in the car.
Put important elements like a purse, a lunch-bag, or documents near where you place your smaller occupants.
Make it a habit to always check the back of a car to confirm that no one or thing accidentally got into a vehicle.
Consider leaving a pet at home if not essential to daily duties.
Develop reminder pamphlets to leave on cars about safety precautions.
When visiting an establishment that is not pet-friendly, it is always best to leave your furry friends in the comfort of your home. Pet safety is of the utmost importance to all of us at Ample Nutrition which is why we want our readers to be mindful of at-risk animals.
Bold Commerce Collaborator