Have Hot Spots And Allergies? Try Antibacterial and Antifungal Shampoo and Wipes
Have Hot Spots And Allergies? Try Antibacterial and Antifungal Shampoo and Wipes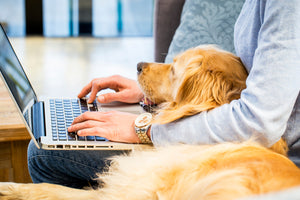 Does your pet suffer from hot spots or allergies? They are stressors which are painful and recurring if the cause of the hot spots and allergies are not treated properly. While a trip to the vet includes the use of antibiotics, they will treat the illness but not the likelihood of a recurrence which is why antibacterial and antifungal shampoo and wipes provide these valuable benefits.
Hot Spot Symptoms
Hot spots will occur because of allergies, skin irritations, insect bites, matted coats, and skin traumas. Symptoms include itching, redness, pain, inflammation, and wet patchy skin that often is smelly and draining with infected fluids. When moisture gets trapped by your pet's coat, it creates the perfect environment for bacteria to thrive which leads to an infection. When pets continuously lick and scratch the hot spots, it leads to irritation and the spread of infection.
Allergy Symptoms
From environmental allergens like pollen and mold to food intolerances, allergies are very common. While humans often show allergic symptoms like a runny nose or sneezing, animals often experience itching which is why patches of skin are exposed over the entire body. Often, the skin suffers from infections, blisters, scabs, and hair loss. Your pet may also experience wheezing, coughing, vomiting, diarrhea, sneezing, and eye and nose discharge and swelling.
What Is The Best Way To Treat And Prevent Hot Spots And Allergies
Antibacterial And Antifungal Wipes And Shampoo
While you may opt for veterinarian prescribed medications to treat a bacterial infection, it is important to keep a hot spot or skin allergy reaction sterile which is why Ample Nutrition's Chlorhexidine 2% Ketoconazole 1% antiseptic wipes and medicated shampoo are ideal to use with antibiotics. Furthermore, they are the perfect combination to keep your pet's coat clean and infection-free which is the best option for prevention.
Our wipes contain 2% of Chlorhexidine gluconate which fights bacterial skin infections and 1% of Ketoconazole for treatment of fungal skin infections. These critical ingredients will also disinfect and soothe your pet's skin which are components that prevent skin irritations, hot spots, allergies, acne, dermatitis, skin abrasions, and rashes. While the cucumber melon and aloe soothe the skin, they also add a fresh, minty clean aroma.
Nutrition is critical to keep your pet's coat in optimal shape which is why you should also include prebiotics and probiotics to balance out your pet's gut microbiota which affects digestion, immunity, health, and emotional behaviors. Ample Nutrition's Complete Dog Prebiotic and Probiotic has been scientifically created to support your pet's intestinal bacteria and maintain health. Probiotics are especially needed with the introduction of antibiotic treatment for any diet changes or treatments for hot spots or allergies.
An essential element to your pet's skin and coat health is the introduction of a quality-made fatty acid which will maintain and prevent hot spots and allergic skin conditions.
Our experts recommend the Antibacterial And Antifungal Wipes And Shampoo and the Vitality Pro System which includes Prebiotics, Probiotics, and Omega-3 Fish Oil. Our products will prevent allergies and hot spots while maintaining the health and beauty of the skin and coat.
Bold Commerce Collaborator