Is It Safe For My Pet To Travel In An Airplane?
Is It Safe For My Pet To Travel In An Airplane?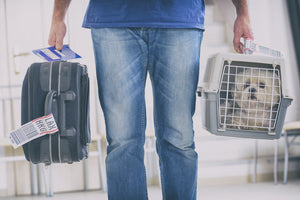 In 2017, the Department of Transportation recorded that 24 pets died on commercial flights in the United States. Eighteen of them occurred on United Airlines flights which brought about discussions about when it is safe for pets to fly. Between 2014 and 2016, another 66 pets died which signifies it is an on-going problem. More than 20 injuries also occur each year.
For pet owners, the data is alarming even though about two million animals fly each year without difficulties. If you are planning on taking your pet on an upcoming flight, it is important to learn about pet regulations so that you can choose a pet-friendly airline.
What Are The Pet Regulations?
Airlines allow pets to fly in only four ways: In-Cabin, As Cargo, Checked Baggage, and Service.
In-Cabin: Pets that travel with adult passengers may fly in the cabin in a secured carrier that complies with airline requirements. The carrier must be small enough to stow underneath an airplane seat. Avoid putting your pet in an overhead bin.
Checked Baggage: Pets traveling with adults that do not conform to in-cabin restrictions must go in the cargo holds. Airlines contain pets for long periods in baggage areas with poor ventilation and harsh temperatures before transferring to the cargo hold of an airline for transport which is where most pets suffer injuries.
Manifest Cargo: Pets that are large or unaccompanied by passengers must fly as manifest cargo. As you are not on the same flight, you must book a separate reservation, drop off, and pick up from an airline's cargo department.
Service: Unlike in-cabin restrictions, if your pet qualifies as an emotional support or service dog, you can bring your animal in the cabin with you. Some airlines have restrictions on the type of animals that qualify, so you should check with your carrier before arriving at the airport.
Is It Safe For My Pet To Travel In An Airplane?
The cargo holds are pressurized for safety reasons which control the air-quality and temperatures in-flight. You should take precautions before dropping off your pet and during layovers.
Never Travel During Extreme Temperatures
 The chance of your dog suffering a medical issue increases when flying during times of extreme temperatures. Try to avoid traveling with your dog during extreme summer or winter weather. Some airlines prevent it for safety sakes which means they consider your pet's health and safety. Others continue to fly even though they are aware of the dangers present when in storage, during loading, or when being taxied to and from the plane.
Visit Your Veterinarian Before Travel
 Visiting your vet is recommended. If your pet is unhealthy or nervous around other animals, traveling on an airline may induce high-stress levels. We recommend that you try our all-natural anxiety support chews. If you still find that this is an issue, consider hiring a sitter or ask a relative to care for your pet.
 If you must fly with your pet, think about the route you will take. Multiple airline transfers will be difficult as you must pick up your pet and relocate between stops. You should also make sure you give yourself enough time to walk and water your pet.
 Checking your airline's pet policies and making sure your pet is comfortably housed in its carrier will prevent these issues. When in doubt about airline practices, rethink your travel plans.
Bold Commerce Collaborator