Looking For Ways To Increase Workout Time? 3 Pet-Friendly Ways You Can
Looking For Ways To Increase Workout Time? 3 Pet-Friendly Ways You Can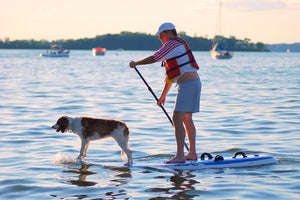 The CDC recently found that only about 20% of Americans adhere to aerobic and mobility activities based on the Physical Activity Guidelines. If you are one of the remaining 80% who could use more activity in your daily routine, look no further than your furry family member to give you the motivation. Here are three pet-friendly ways you can increase your workouts.
1. Walking With Your Dog
 Did you know that people who own dogs get about 22 minutes more of walking time daily than people who do not? This study also found that pet owners who briskly walked enhanced cardio. Moderate exercise patterns like this have direct health benefits which lower the risk of diabetes, heart disease, high cholesterol, and high blood pressure.
 Whether you want to motivate your dog or yourself, walking is ideal for animals who spend more time on the couch watching TV than their owners do. Try to put aside thirty minutes each walk to allow your dog to venture out and explore. If your dog is aging, has health issues, or is overweight, you should start out with only ten or fifteen minutes
 Calorie Burn: 170 Calories Per Half Hour Of Brisk Walking
2. Kayaking Or Paddle Boarding
 Dogs are born swimmers, so it makes sense that water sports are ideal exercises to invest in. Kayaks and paddleboards are designed ideally for both owner and pet usage. You also have the option of standing or kneeling on a paddle board. You might consider using a doggie life preserver which will give you easier access for your dog to get back on.
 If your dog seems skittish at first, practice getting on or off in the shallower water until ready to venture out. Do not forget to bring along throw toys or sticks to increase your mobility and fitness level. Not only will you get a lot of arm and core muscle workout, but your dog will get a full body workout from jumping in, swimming, and returning.
 Calorie Burn: 300-400 Calories Per Hour At A Leisurely Paddle Rate
3. Introduce Your Doggie To Doga (Dog Yoga)
 Whether you are doing the downward-facing dog or the cobra pose or simply choosing to engage in doggie stretches, doga will help your dog improve both mentally and physically. Teaching your dog presence and peace of mind can also be achieved with doga even when you have to use a few treats in the beginning as a training reward.
 Why doga? Other forms of exercise may not include direct contact. Doga is all about one-on-one interaction with your dogs which will give them badly needed attention and love they are craving. Moreover, it allows you to work with your vet to target areas that need more workout time. Because you are tackling this exercise as playtime, you will enjoy it.
 Calorie Burn: 100-175 Calories In A Half Hour (Depending On Activity)
Before starting any exercise routine, check with your vet so that your pet can also be monitored for health benefits. Also, do not forget to pick up Ample Nutrition's Hip & Joint Care For Dogs to improve comfort and joint and cartilage function while also reducing inflammation.
Bold Commerce Collaborator